[dp_demo_ad_fullx90]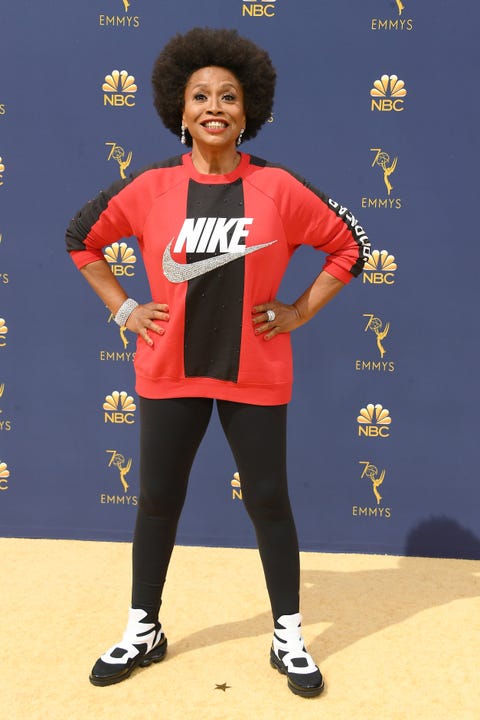 Getty ImagesSteve Granitz
When it comes to the Emmy Awards, the standout looks of the night typically range from glamorous flowing gowns to crisp, sharp suits. But at tonight's 70th Annual Emmy Awards, all eyes were on black-ish star Jennifer Lewis, who traded in the typical award show gown for a more laid-back ensemble, making a subtle yet bold statement on the red carpet.
Advertisement – Continue Reading Below
She's with Colin Kaepernick, if the bright red and black Nike sweatshirt with a bedazzled swoosh didn't immediately give it away. Speaking to Variety on the red carpet, Lewis opened up about her decision to wear Nike to the Emmy Awards. "I am wearing Nike to applaud them for supporting Colin Kaepernick and his protest against racial injustice and police brutality," she said. Just a few weeks ago, Nike debuted its 50th anniversary "Just Do It" campaign starring Kaepernick with the message: "Believe in something, even if it means sacrificing everything." The ad was met with a wave of backlash, resulting in a trend of people burning their Nike goods.
Advertisement – Continue Reading Below
Despite the backlash, though, Nike sales increased dramatically since the campaign launched, thanks to fans and celebrities standing behind the former quarterback. Just days after the campaign dropped, Lewis showed her support for Kaepernick, tweeting, "WE ARE WAKING UP!!!"
When it came time to decide on an Emmy Awards outfit, Lewis knew she wanted to make a statement. "What can I do? What can I do that's meaningful?" she added. "I'll wear Nike. I'll wear Nike to say thank you. Thank you for leading the resistance! We need more corporate America to stand up also."