[dp_demo_ad_fullx90]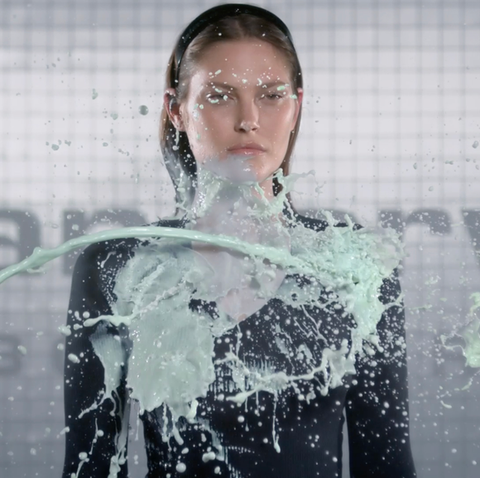 Courtesy of Alexander Wang
When social media's Rickey Thompson walked the Alexander Wang Season 2 show back in December we knew that was just the beginning of their relationship. The designer cuts pieces for the cool kids, items that will take them from Instagram to the coolest parties and back again, so Thompson was an obvious choice.
Today, the duo is teaming up again with Thompson starring in a new video for Alexanderwang.T's Wash n Go Collection 2 2019. In it, Thompson plays as an infomercial salesperson at Alexanderwang Factories, where he demonstrates just how reliable and durable the Wash n Go pieces are.
Modeled by Australian model Cat McNeil, Thompson walks us through common mishaps that occur during our day-to-day duties that might ruin our clothing, including stubborn mascara marks, coffee stains, and dirty water spots. He explains that the beauty about the collection is that after just one wash, those spills and stains are gone (so no long dry-cleaning lines for us) and you'll be on your way to "work, play, rinse, repeat, and go," he says in his signature animated voice.
"Wash & go caters to the woman who needs to go from day to night to day again with convenience and ease," the brand explains in a press release. "She doesn't have time to wait for the dry cleaner to finish cleaning her favorite summer slip dress because she needs it for a party tomorrow."
Shop the Alexanderwang.t collection now at alexanderwang.com.